- Palm Springs
A Zen-Filled 4 Day & 3 Night Itinerary for Labor Day Weekend in Greater Palm Springs
Celebrate the extended Labor Day weekend in Palm Springs – the perfect excuse to escape the daily grind and treat yourself to a relaxing break. What better place to embrace tranquility than this balmy paradise of a desert city, offering everything you need to rest, rejuvenate, and bask in the final days of summer?
A thriving culinary scene, healing natural springs, and the spectacular backdrop of palm trees and desert mountains — it's all right here waiting for you on Labor Day weekend. This 4D3N itinerary will guide you through the most enjoyable way to spend your Labor Day weekend in Greater Palm Springs.
Day 1: Friday, September 1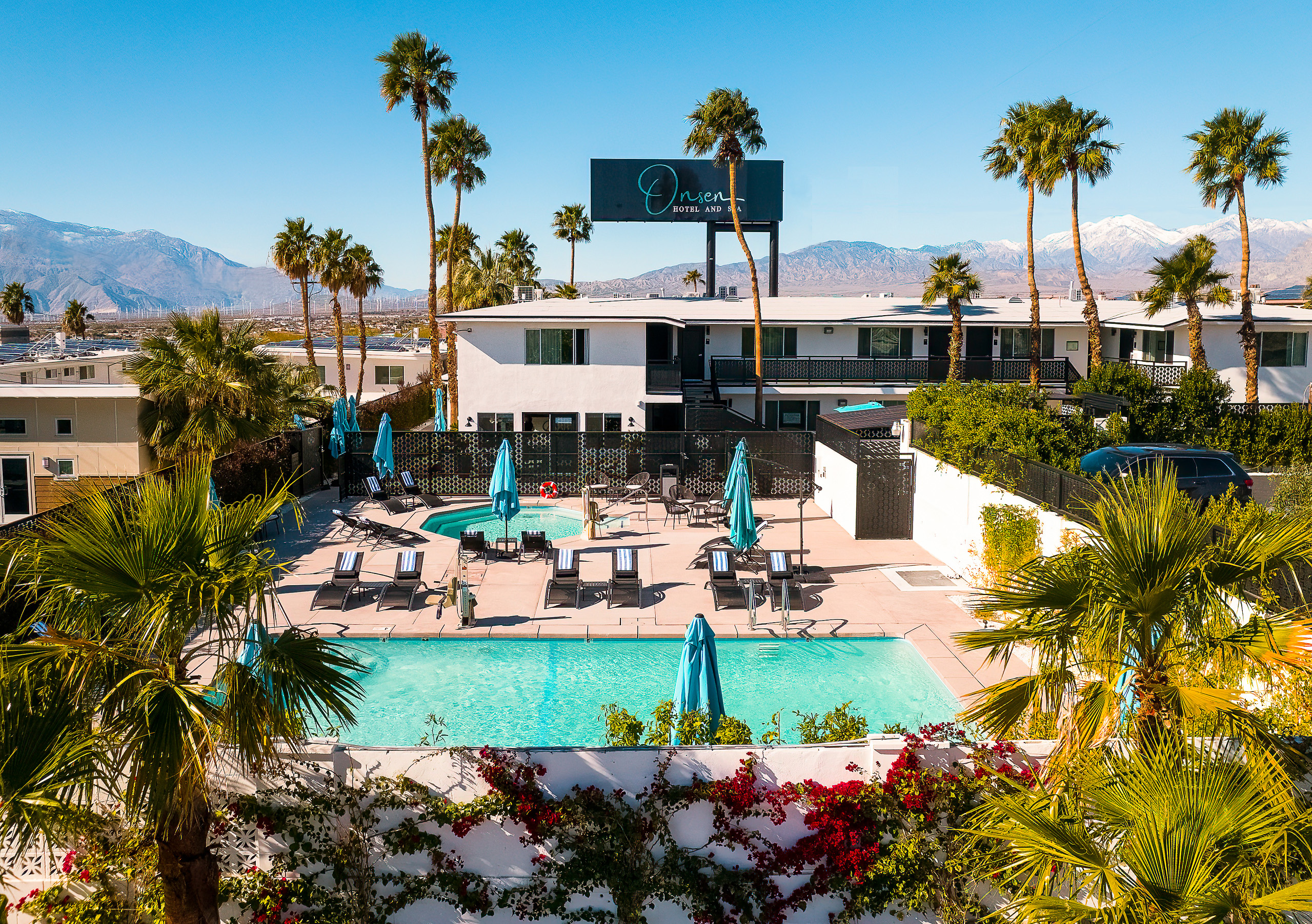 3:00 pm – Check-in at Onsen Hotel and Spa
Your relaxing Labor Day weekend in Greater Palm Springs begins at 3pm as you check into the serene Onsen Hotel and Spa. With its distinctly zen aesthetic, feel the stress of travel melt away as you walk in.
3:30 pm – Afternoon Soak in Onsen's Hot Springs
Start your holiday off and take a dip at Onsen's revitalizing mineral pool and jacuzzi. Fed by natural hot springs, it's your own little haven of tranquility, easing your travel fatigue and setting the tone for your relaxing weekend.
4:30 pm – Relaxing Spa Treatments
Once you've had your fill of the mineral pools, transition to our in-house spa and treat yourself to a massage or facial treatment to rejuvenate your mind and body. We offer a range of treatments for the ultimate pampering experience including age-defying facials and massages, full body scrubs and masks, eye and lip treatment, and more. Check out our spa menu here. 
7:00 pm – Dinner at Spencer's Restaurant
Wrap up your day with a remarkable dinner at Spencer's Restaurant. Nestled at the base of the San Jacinto Mountains, Spencer's is famed for its unique fusion of traditional and innovative American cuisine. More than the fresh and high quality dishes, the service and the ambiance at Spencer's is always on point. You won;t be disappointed. 
Day 2: Saturday, September 2
8:00 am – Complimentary Breakfast at Onsen Hotel
Start your second day in Palm Springs with a hearty complimentary continental breakfast at Onsen. Fuel up for the day's adventures with a spread of delectable breakfast items while enjoying the tranquil ambiance of the hotel.
10:00 am – Stroll downtown and visit the Palm Springs Art Museum
After breakfast, head out to explore Downtown Palm Springs. Enjoy strolling the streets and checking out the unique mid-century modern architecture the town is known for. Make sure to stop at the Palm Springs Art Museum, an impressive collection of art and artifacts that reflect the rich history and culture of the Palm Springs area. It's a feast for art lovers and history buffs alike!
1:00 pm – Lunch at FARM in Palm Springs
Post-museum, treat yourself to a leisurely lunch at FARM in Palm Springs. Here, you'll be transported to the South of France with authentic recipes, farm-fresh ingredients, and a unique ambiance. Lunch at Farm is guaranteed to make your day.
3:00pm – Cirque du Soleil: Corteo at Acrisure Arena
View this post on Instagram
At 3:30 pm, lose yourself in the mesmerizing artistry of Cirque du Soleil: Corteo at Acrisure Arena. This magical performance promises to be a thrilling spectacle of fun, wonder, and daring acrobatics.
7:00 pm – Sunset Cocktails and Dinner at Rooster and The Pig
After the show, find your way to the acclaimed Rooster and The Pig. This innovative Vietnamese-American eatery is a local favorite, known for its unique fusion dishes that beautifully blend traditional flavors with modern twists. 
Day 3: Sunday, September 3
7:00 am – Option 1: Hike at Joshua Tree National Park
Rise early and head to Joshua Tree National Park to make the most of the cooler morning temperatures. This world-renowned park offers a plethora of hiking trails, picnic spots, and opportunities for wildlife sightings. Explore to your heart's content amidst the park's uniquely-shaped trees and rugged rock formations.
Option 2: Desert Adventures with Red Jeep Tour
View this post on Instagram
If you're not up for a DIY hike, explore the mysteries of the desert with the Red Jeep Tours instead. They offer an array of tours tailored to various interests—whether it's the natural wonders of the San Andreas Fault, the vibrant flora and fauna of the Coachella Valley Preserve, or tales of the local Cahuilla Indians. Each tour promises a blend of education, entertainment, and the raw beauty of nature.
2:00 pm – Afternoon Entertainment at PS Drag Brunch
Transition from rugged terrains to the glitz and glam of Palm Springs with the PS Drag Brunch. Enjoy the spectacle as fabulous drag queens serve up performances as delectable as the food.
5:30 pm – Relax at Onsen
Post-brunch, head back to the Onsen Hotel and Spa. Dive into a book by the pool or simply let your mind drift while you soak in the rejuvenating waters of the pool.
7:00 pm – Dinner at Tac/Quila
As the night draws in, head to Tac/Quila for dinner. This restaurant specializes in Mexican cuisine with a unique spin, offering you a gastronomic adventure like no other. Round off the day with one of their specialty cocktails, and you're set for a memorable evening.
Day 4: Monday, September 4
Check-out and Departure
Before waving goodbye to Greater Palm Springs, don't forget to visit the hotel's spa shop. Grab some spa essentials to remember your rejuvenating weekend.
Have a relaxing and rejuvenating long weekend this Labor Day 2023, only at Onsen Hotel and Spa!

A Rejuvenating Stay Awaits in Our Chic Desert Oasis.